What's the best option if you're going to choose between Amazon Handmade vs Etsy?
Many are familiar with Etsy but might not have even heard of Amazon handmade.
What's Amazon Handmade?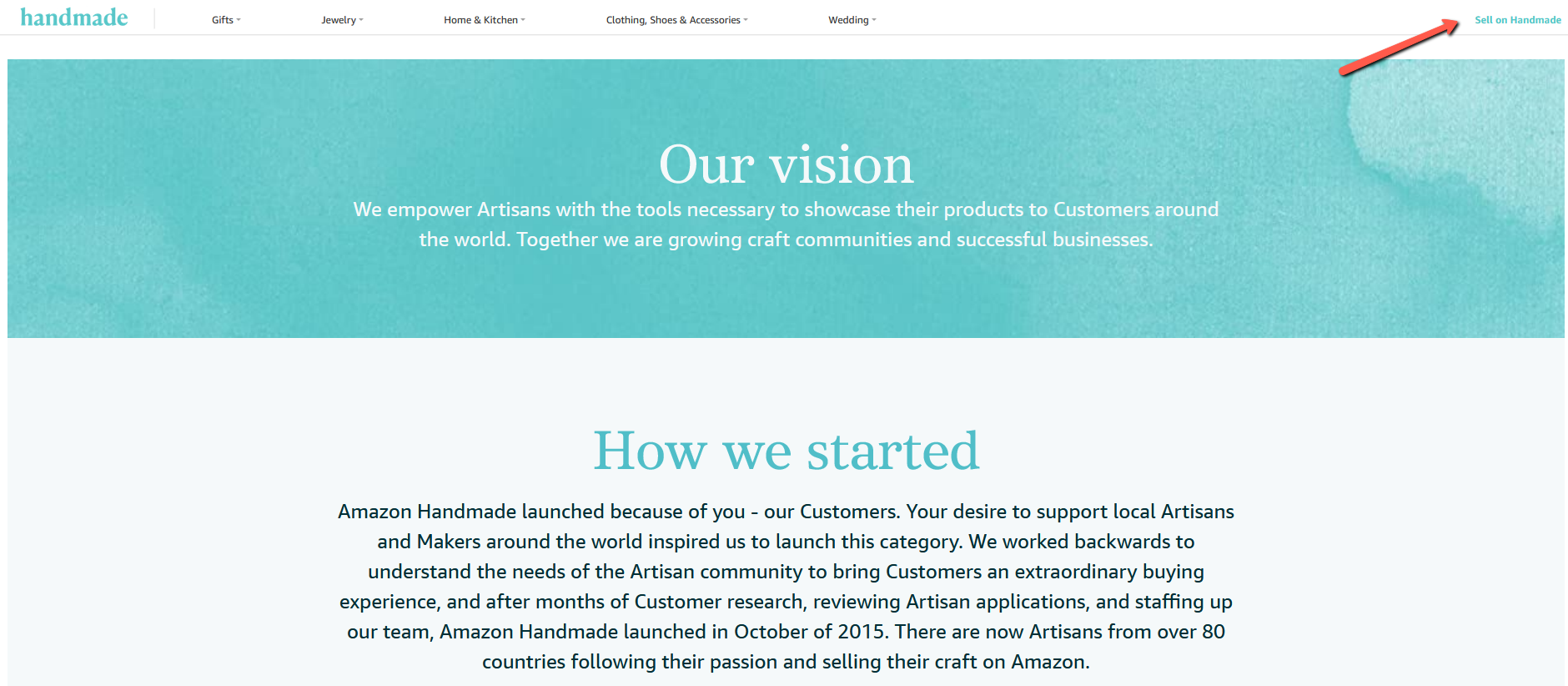 Here's a short explanation from their page:
We empower Artisans with the tools necessary to showcase their products to Customers around the world. Together we are growing craft communities and successful businesses.
The Amazon Handmade department is an online marketplace made specifically for handmade items and craft supplies.
It's basically Etsy but with the resources of Amazon behind it because Amazon wanted to get in on the action that Etsy was seeing from handmade and custom boutique-style goods.
The question is, is Amazon's version of a handmade online store better than Etsy?
How do I choose between Amazon Handmade Vs Etsy?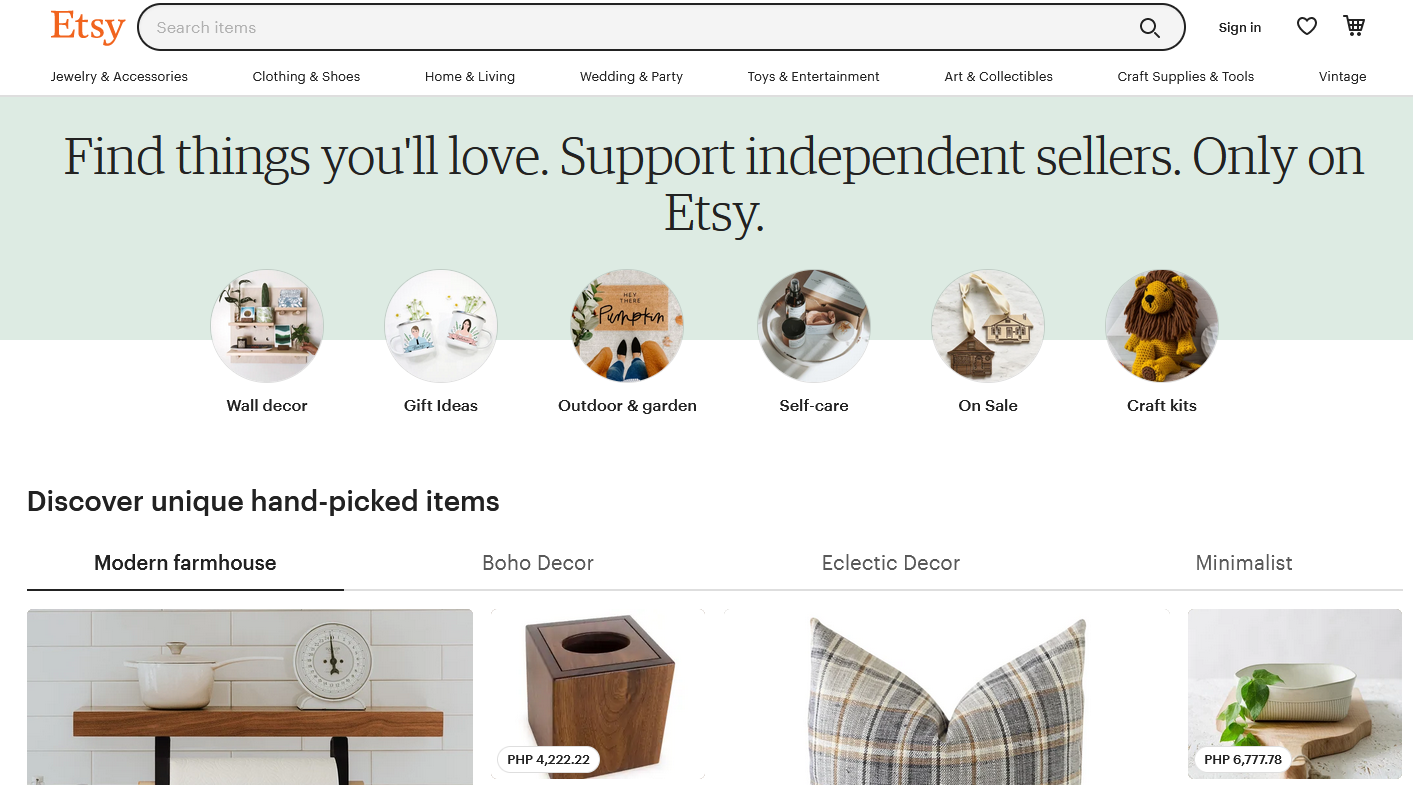 Success on both platforms is not necessarily predictable. Some sellers succeed on one while others succeed on the other. It comes down to where your demographic hangs out and also the price point. Because while Etsy shoppers may pay $2000 for a custom one of a kind handmade furniture or item, Amazon handmade shoppers, even though looking for handmade goods, will not be as easy to make a sale to.
It's better to take a closer look at the pros and cons first if you're thinking of selling handmade items on either site.
Amazon Handmade Vs Etsy: A Side-by-Side Comparison Guide
Amazon Handmade shop was created in 2015 but the Amazon homepage is where people look to get anything and everything. Amazon's first and still lasting impression of easy to access any type of product with fast delivery. Whether the item is a kids lunchbox to a crystal vase, Amazon has it. But to get to Amazon Handmade, it's a subsection of the entire website which means it's harder to get to and find what you are looking for.
Although the traffic is the highest in the world for online shopping, there are so many options, shoppers will be distracted with tons of competing products.
Etsy shop on the other hand was created in 2005 but it's where people look to buy handcrafted and vintage items. Although the policy has changed to allow manufactured goods, it still very much feels like a bazaar, fair, event type shopping platform where a lot of emphasis is placed on craftsmanship and uniqueness.
Amazon Handmade Vs Etsy shop: Differences
There are many differences than similarities.
Amazon's sign-up process is more involved and takes longer than Etsy's. While Etsy is less stringent, Amazon Handmade application needs to be approved. And Amazon takes weeks or months to approve Amazon Handmade sellers applications.
Amazon Handmade sellers are required to make their own products with the help of 20 or fewer employees. Etsy will allow you to work with other manufacturers.
Etsy will charge 20 cents per listing and your listing will expire after 4 months (this is renewable with another 20 cents listing fee). Amazon Handmade doesn't have listing fees and your listing doesn't expire.
Etsy has about 160 categories and is not strict when it comes to categorizing your products. Amazon Handmade only has 14 very strict categories that your product should adhere to.
Etsy payout is very straightforward. Amazon's payment process is a little convoluted and can take up to 24 days to process. Etsy will pay when the transaction is done. Amazon will only release payment when the product is shipped.
Even if Amazon has multiple millions of users, the Amazon Handmade microsite is not well-known. Etsy however is the destination if people are specifically looking for handmade and vintage products.
While Amazon Handmade doesn't have listing fees, Amazon charges a monthly fee of $39.99 if you sell non-handmade products that number more than 40 in one account. Amazon also gets a 15% commission on all sales that are charged in the shipping fees. Esty only deducts 5% from every sale and there are no monthly fees.
Amazon offers FBA and FBM shipping. Etsy doesn't have its own shipping service.
Amazon Handmade Vs Etsy: Pros and Cons for Sellers
It's ideal if you can put your product on multiple marketplaces. But I know that most sellers have limited resources so choosing one is crucial if you want to focus and scale.
It's clear that artisan sellers who don't like drawn-out applications and payout processes will choose Etsy.
But Amazon Handmade has unlimited upside because of Amazon's resources and the convenient shipping choices.
FAQs
Which is better Etsy or Amazon handmade?
Both have pros and cons. Etsy is definitely easier to start with but Amazon Handmade is backed by Amazon and its 300 million customers.
Does Amazon handmade charge a monthly fee?
Amazon Handmade does not have a monthly fee for homemade products.
What is the difference between Amazon and Amazon handmade?
The Amazon Handmade department is a microsite that helps artisans sell handmade items. Amazon handmade is separate from the main Amazon store.
Want more detailed Amazon guides and tactics to boost sales?
Be the first to know when a new guide is published and how we are implementing it into our business.