Uploading video content for your Amazon listing will allow you to show in-depth features of your product and highlight key product features.
Uploading video content for your Amazon listing will allow you to show in-depth features of your product.
You can also show online shoppers how to use your product, or just show your product in use.
It's a great way to boost sales as listings with videos generate 2.5x more purchases than listings with no videos.
This feature was only available if sellers have brand registry in the past. But all Pro seller accounts can now upload videos.
Read on to learn how to add video to Amazon listing product pages.
Not a brand registry owner?
Can I upload videos on Amazon without brand registry?
Yes.
You can add videos even without brand registry. Adding videos is easier than ever.
Only brand owners were allowed to upload videos in the past. Now, it's available to all sellers with a Pro account. You simple need to adhere to Amazon product video guidelines.
Before this opened up, people used to upload videos using the reviews section, the video shorts listings, or paying brand-registered Fiverr vendors to upload their videos.
Step-by-Step Process – How to add video to Amazon listing
Here's how to add video content to Amazon listings via vendor central.
Step 1: Log into your Amazon Seller Central account.
Step 2: Hover your mouse pointer on Inventory then select Upload & manage videos.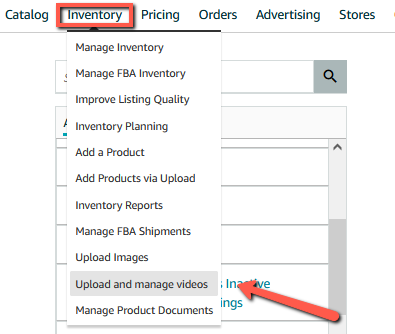 Step 3: On the Manage videos page you can search ASINs or Upload video.

Step 4: Clicking on Upload video will bring you to this page (which may or may not also show your product ID).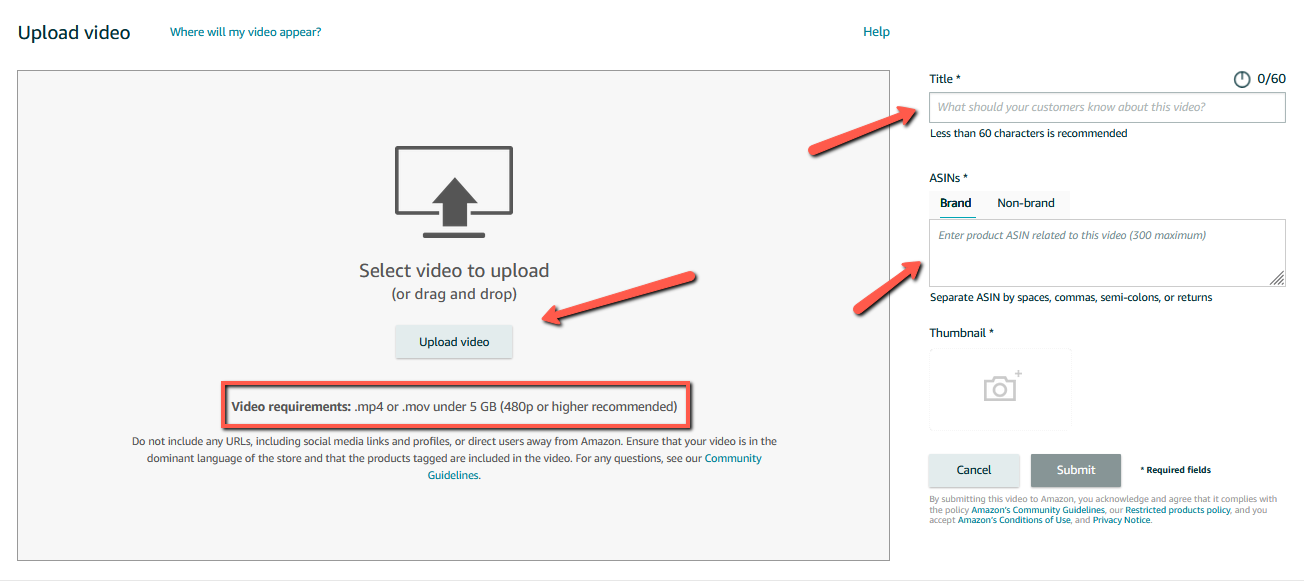 Make sure to review the community guidelines to steer clear of trouble.
Note that you can only upload using .mp4 or .mov format at 480p or higher resolution (up to 1080p, no 4k) not exceeding 5gb.
Make sure there are no links that will direct users away from Amazon.
Use the title field to make keyword-rich video title for SEO.
You can make your own thumbnail or Amazon can choose a frame from your video.
Here's what Amazon suggests if you want to make your own thumbnail: Use high-quality image in either .jpg or .png format.
What are related video shorts on Amazon?
Anyone can add a video to the videos shorts listings even without brand registry.
Except you, the seller, can't add videos to your own listing this way.
In this case, you can have friends/family use their Amazon accounts to upload short videos on your listing by clicking on Upload your video.
In line with this, it's possible to use an alternate Amazon buyer account (not a vendor central account) to upload videos here too.
When you've uploaded a video to this section, you'll see it below your product detail page or under the product description. It's not as visible as the top of the product detail page.

Again, it's not ideal but it's a great way to add video reviews, how-to videos, unboxing, feature showcase, or people using your products.
Can I add video to Amazon A+ content?
Basic A+ content cannot upload videos on their Enhanced Brand Content pages.
According to Amazon, only the paid-for Premium A+ content sellers can use video, image carousels, and enhanced comparative tables to tell their brand story and showcase product information on the marketplace.
If you want to add video to your enhanced brand content and your Amazon FBA listing creation, you can get a quote from Amazon, according to the video above.
You can select the category manager and you can ask for a quote.
Based on the video, they inquired for their client and were given a quote of $500,000 just to upload video on their enhanced brand content.
With this price tag, it's not worth using videos for Amazon A+ content (formerly Enhanced Brand Content) for ordinary sellers. It's definitely for huge brands.
Is it worth your time adding videos to your listing?
Yes.
It's too cost-prohibitive to use videos for enhanced brand content. For regular sellers, we can expect a boost in sales if we add videos to the product detail page on top of the up to ten images we're allowed to post.
Videos will also benefit online shoppers so they can understand your product better.
Tips to creating videos for Amazon listings
The trend is towards short and snappy videos rather than boring and droning reviews from a person for your Amazon product data upload.
Creating a video on your iPhone or any other mobile phone, and edit it in a basic video maker to create videos that will wow shoppers. There is no need to spend thousands on video equipment or on each video production.
Here are some quick tips to follow:
Watch tiktok videos and see what type of videos are trending and use the same style
Short videos
Show the products being used
Make lots of snappy and quick jump cuts
Show it in different angles
Takes lots of different short 2-3 second clips and stitch them together
Show the before and after
Show the closeups
Add text in the video because people will watch without sound
High production value is not needed for Amazon listing videos
Frequently ask questions
Can I add videos to my Amazon listing?
Yes. There are a couple of ways to add videos regardless of the type of vendor central account you have. Please check the tutorial above.
Can I add video to Amazon A+ content?
As far as I can tell, adding videos to A+ content is a premium service. I think a $500,00 price tag is going to be too expensive for most sellers.
Can we upload video on Amazon without brand registry?
All sellers can upload videos without brand registry. That's either through the related video shorts for regular sellers, or the top of product listing page if you have a pro account.
How can I add an item on Amazon without brand registry?
You can upload videos through the related video shorts. See the tutorial above.
What are related video shorts on Amazon?
Amazon shorts are videos that you can find below the product description. These videos can be used to upload product reviews, how-to videos, and more.
Want more detailed Amazon guides and tactics to boost sales?
Be the first to know when a new guide is published and how we are implementing it into our business.